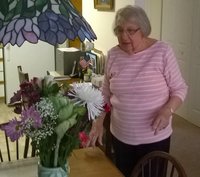 Alexa M. Reeder
Alexa Reeder, of Hatboro, PA made a peaceful transition on June 7, 2019. She was the loving companion of the late Malvern 'Mal' Ayers for many years. Alexa was formerly married to Gene Reeder of Ozone Park, NY. She is survived by her son, Douglas, and daughter, Lynn Hill and son in law Robert Hill; and grandchildren John T. Sears, 3rd, and Emily Nowicki and her husband Cai Nowicki; and great granddaughter, Makenzie Nowicki.
Alexa was a graduate of Germantown High School and Penn State University. She worked for Penn Mutual Insurance, IMS America and Dunn and Bradstreet. She worked as a volunteer for Warminster General Hospital and Bowman's Hill Wildflower Preserve. Alexa was an active member of Common Bond.
A Celebration of Alexa's life will be held at Louis Swift Plunkett Funeral Home, 529 N York Rd, Hatboro, PA on Friday, June 21 starting at 9:30am with memorial service at 11am. Interment Pine Grove Cemetery, Hatboro. Donations in lieu of flowers may be made to Last Chance Ranch Animal Rescue, 9 Beck Road, Quakertown, PA 18951 or to the American Red Cross, 2221 Chestnut St, Phila, PA 19103.