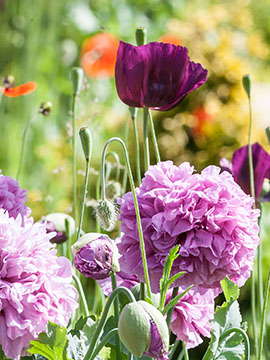 Obituary of Marguerite Klinger
The family of Marguerite Celine Klinger, born August 6, 1935 in Philadelphia, Pennsylvania to James and Mabel McCrane, is heartbroken to announce her passing on August 5, 2018.
Peg was a graduate of Little Flower High School and Chestnut Hill College. She was predeceased by her husband, John Klinger, and her siblings, James McCrane, Jr., John McCrane, Sister Mary Patricia McCrane, SSJ, and Vincent McCrane.
Though disabled by Multiple Sclerosis for most of her adult life, she served in the Parents' Association of Archbishop Wood High School, which graduated all of her children, and as a volunteer with the Cub Scouts, Girl Scouts, and other civic organizations. In 1974 she was recognized as "Mother of the Year" in her adopted hometown of Hatboro. To the end of her life she remained a voracious reader and devotee of the American musical theatre.
She is survived by her children, Dr. Joseph Kline (Alison Miyauchi), Brian Klinger, Maria Gonzalez (Roberto Gonzalez), Kristina DeMent (Todd DeMent), and her eight beloved grandchildren.
Services will be held on Saturday, August 11, 2018 at St. Robert Bellarmine Catholic Church in Warrington, Pennsylvania. Visitation will be held from 9:00 am to 11:00 am with a funeral Mass to follow. Interment Holy Sepulchre Cemetery, Cheltenham. In lieu of flowers the family requests support of The Multiple Sclerosis Society 30 S. 17th St., Suite 800 Philadelphia Pa., 19103. Louis Swift Plunkett Funeral Home, Hatboro.