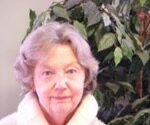 Obituary of Mary A. Miller
Mary Miller passed away peacefully on Tuesday the 20th of September at Abington
Hospital. Mary was 87 years young at the time of her passing. Mary is survived by her
three loving sons George, Stuart and Ken. 
Mary grew up in Maryland, married in
Virginia and moved to Pennsylvania where she attended Temple University and earned
a Bachelor of Arts in Psychology and a Master of Social Work while raising three
children with her husband. Mary joined the Growth Opportunity Center in 1985 and
continued providing services for 37 years until her recent health issues. Mary was the
director of the Bereavement Program. Mary provided individual, family and group
therapy. She specialized in issues related to loss/transition, depression, anxiety, acute
illness, and separation/divorce.
Mary also headed a Widow and Widower Counseling and Referral Service. She
provided bereavement counseling services to individuals and families. Participated in
bereavement training programs for professionals and co-anchored 8-week cable
television series on bereavement issues. Mary also worked with the Finding Hope
committee of Bryn Athyn.
Mary loved golf and looked forward to Golf weekends with her son Stuart at Avelthorpe
Park in Jenkintown. She also enjoyed walking at Lake Galena with Sheila and friends
to watch the herons as well as watching the deer, rabbits and chipmunks at Avelthorpe
Park. While walking just last Friday in the park, several young deer stopped to say hi,
Mary commented that "this is their park and we are just visiting"!
Mary will be sorely missed by her three loving sons, friends, colleagues and clients.
She had a very fulfilling life and touched many hearts and minds until the time of her
peaceful passing.
Please join us to honor Mary on Thursday the 29 th of September. A Memorial Service will begin at 11:00 A.M.
Relatives and friends may greet the family beginning at 9:30 A.M. until the time of Service at
Louis Swift Plunkett Funeral Home
529 N York Rd, Hatboro, PA 19040
In lieu of flowers, donations can be given to the Growth Opportunity Center. Donations to
GOC are used to help continue and expand programs and services. Funds are also
used to assist clients who are experiencing financial difficulties. To Make a donation in
Mary's name, please make check payable to: Growth Opportunity Center 928 Jaymor
road, B150 Southampton, PA 18966. Interment is private.