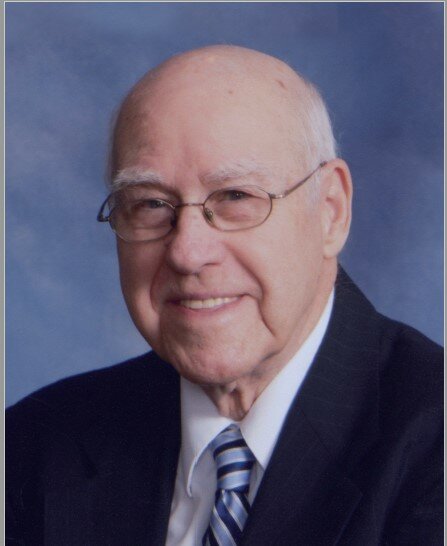 Obituary of Harry F. Geib Sr.
May 11, 1932 – March 11, 2023
Harry F. Geib, Sr., loving husband, father, grandfather, and friend was called to eternal life on Saturday, March 11, 2023, at the age of 90. Harry was born in Philadelphia, PA, on May 11, 1932, son of the late Harry Geib and Mary Geib (nee Warner). Harry is survived by his loving wife of 66 years, Helen Geib (nee Meiklejohn). Harry and Helen met at a dance at Holy Cross in Mt. Airy in 1956. Harry is survived by his three children Rev. Harry F. Geib, SJ, Steven (Mary), and Michael (Christine); his grandchildren Michael Jr. (Gabrielle), Mark, Benjamin, Finley, Jayce, and Nicholas. Harry is survived by his sister Edna Jackson. He was predeceased by his sister Betty, and his brothers Fred and Joe.
Harry attended North Catholic High School and LaSalle College in Philadelphia. Harry served in the United States Air Force as an airplane mechanic during the Korean War from 1950 through 1954 achieving the rank of Staff Sergeant. Harry was an electrical engineer at several companies including Remington Rand, Honeywell, and US Sprint. Harry worked on one of the early UNIVAC computers. Harry earned two US patents.
Harry spent his childhood in Franklinville, NJ. For over 40 years, he was a long-term resident of Trevose, PA, and a member of St. Christopher's Catholic parish. The past 22 years found Harry as one of the original residents of Legacy Oaks, an over-55 community in Warrington, PA. During that time, Harry was a member of St. Robert Bellarmine Catholic parish. Harry enjoyed his neighbors and activities especially Tai Chi classes and the Fourth of July parades.
At the age of 37, Harry took up jogging eventually competing and participating in many races including two Philadelphia full marathons, fifteen half marathons in Philadelphia and Ocean City, NJ, as well as many races starting at Boathouse Row. Harry loved to camp and took his family on many camping vacations in NJ, NY and Maine. He also enjoyed annual family vacations in Ocean City, NJ. After retiring, Harry and Helen traveled to Siesta Key, FL, during the colder winter months. Harry and Helen also took many vacations all over the world. Harry was a remote-control airplane enthusiast spending many hours building and flying his airplanes. Harry loved to entertain his family and friends with stories of his childhood in Franklinville, NJ, and his years in the United States Air Force.
For over 50 years, Harry and Helen enjoyed long-term friendships with the members of their Marriage Encounter group and for over 40 years were devoted members of the Jesuit Villiger Guild in Philadelphia, for family and friends of Jesuits of the Maryland Province.
Visitation will be held on Tuesday, March 21, 2023, from 9:30 AM to 11:00 AM at St. Robert Bellarmine Church (856 Euclid Avenue, Warrington, PA 18976). A funeral Mass will follow at 11:00 AM at the same location. Military Honors will be observed immediately after the funeral Mass.
In lieu of flowers, donations may be made in his memory to the Society of Jesus (Jesuits) at 39 E 83rd St. New York, NY 10028-0810 (www.jesuitseast.org).