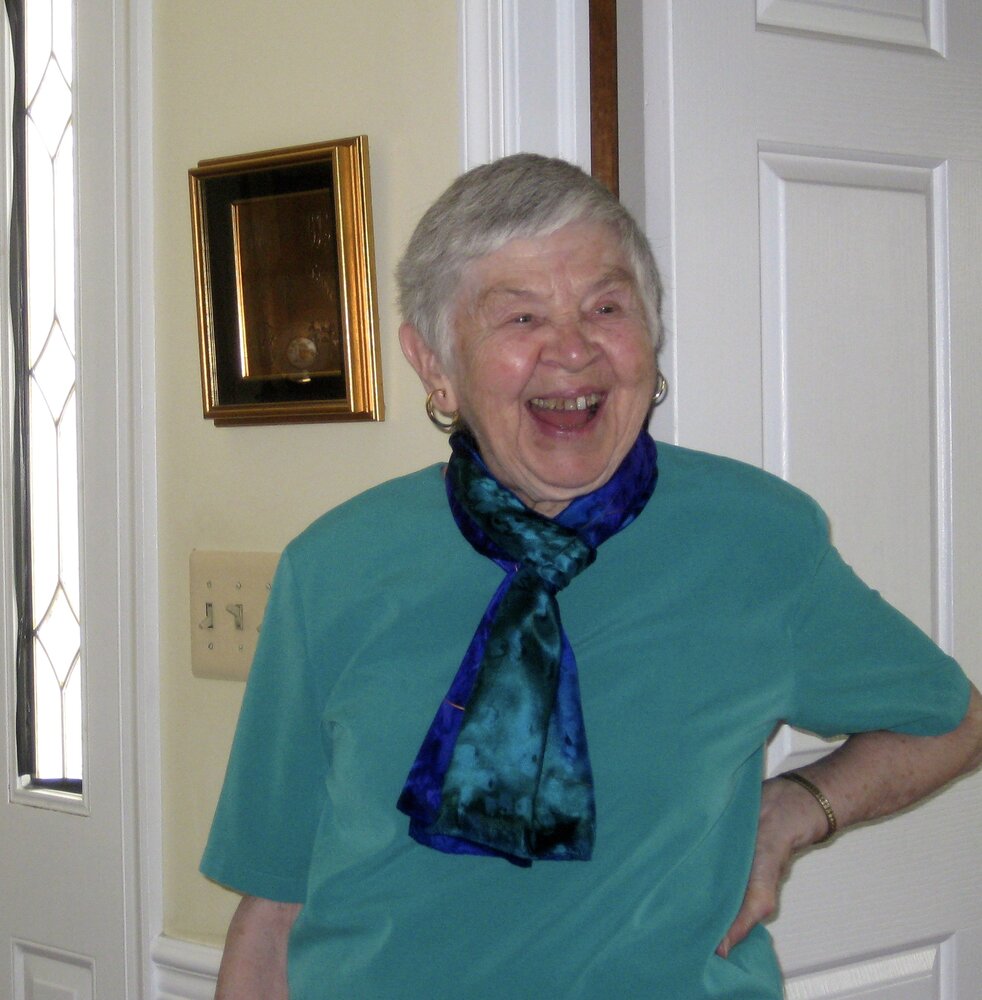 Obituary of Margaret C. Schneider
Margaret (Peg) Schneider, who spent almost a century quietly enriching the lives of others, passed away early Thursday morning, March 23, at Ann's Choice in Warminster, PA.
Born in 1923 in Philadelphia, she was the daughter of Howard and Ruth (Christ) Chase. She grew up in Germantown and was a member of the first graduating class of Little Flower Catholic High School for Girls in 1941. Though underage, she worked at a mortgage company after graduation and only admitted her true age when the office celebrated her birthday; instead of being fired (her fear) she was promoted soon after. She met her future husband, Henry Schneider, when he was boarding at the home of her best friend, Mary O'Connor, while he attended LaSalle College.
Peg and Hen were married in 1944 at Immaculate Conception Church in Germantown. They lived briefly in Cambridge, MA where Henry, a captain in the Marine Corps, was engaged in research activities for the military. Cambridge was also where Peg's culinary talents blossomed. In 1945 they moved back to Philadelphia, where their first two daughters were born.
After World War II, they moved to Badger Village near Baraboo, Wisconsin, where they lived in "temporary" wartime housing while Henry pursued his Ph.D. at the University of Wisconsin. Peg said that what she recalled most about that time was that her "feet were always cold." They moved back to the Delaware Valley in 1951, first to Riverside, NJ and in 1952 to a newly built home on Meadowbrook Avenue in Hatboro, PA – a location that enabled Peg, who didn't drive until she was nearly 50, to take public transit to visit her family in Germantown. She lived there for 60 years until moving to Ann's Choice in 2014.
Peg loved her family and relished opening her five children to new horizons through travel. As their means increased, she and her husband took their children on touring vacations up and down the East Coast, across the upper Midwest, and to Canada. Each year they loaded their Pontiac station wagon with provisions and AAA guidebooks, set a far-off objective, and fearlessly explored new areas of the country. Each day ended with Hen and Peg stopping at multiple roadside motels until they found a suitable place to stay for the night. Peg confided later that she eschewed advance motel reservations so that her husband wouldn't feel pressured by a fixed destination each day. She meticulously journaled the adventures and the expenses, down to the penny ("Comic Books, $.36")
When Henry retired from Rohm and Haas and joined the International Executive Service Corps, Peg traveled with him to multi-month assignments in Japan and Brazil. They also visited many other countries in Europe and Southeast Asia. After Henry's death in 1985, she and her friend of many years, Geri Frawley, rented an RV and in their mid-60s toured the national parks in the West.
Peg was a true communicator who in conversation made others the center of attention and kept the Postal Service busy with a continual stream of letters, cards and thank-you notes to family, friends, and acquaintances she had made over the years. All were written – even in the last years – with the same precise, clear penmanship. Her travel postcards were legendary: no space was wasted and no details were too tiny to omit. She had no use for email until the pandemic, when her daughter showed her how it could be a gateway to photos and videos of her great-grandchildren. She quickly grasped the concept of wireless charging, initially leaning her iPad against a USB block overnight; alas, her iPad lacked the wireless charging capability to keep up with Peg's technology vision.
She was a devout Roman Catholic who believed in the power of prayer and maintained a long list of intentions. An active parishioner at St. John Bosco Church for seven decades, she attended Mass there daily when she lived in Hatboro and continued to attend Sunday Mass there even after she moved to Ann's Choice. On vacations, Sunday mornings invariably included Mass at a local church.
Peg was an avid game player who never gave any quarter to anyone, including her husband, her children and her grandchildren. She loved playing bridge with friends, many of them members of St. John Bosco. She continued to play bridge when she moved to Ann's Choice and also began playing Rummikub with the new friends she made there. She also enjoyed crossword puzzles, jigsaw puzzles, sudoku and – no kidding! – balancing her checkbook. When Lent began during the 2020 quarantine and Ann's Choice residents were restricted to their rooms, Peg limited herself to placing two jigsaw puzzle pieces per day because she had nothing else to give up for Lent.
A homemaker, Peg touched countless lives through a long list of volunteer activities. She was a librarian at St. John Bosco School; a cancer hospice volunteer; ironed altar linens, tended flowers, worked at the rectory and as a CCD aide at St. John Bosco Church; was a Girl Scout and Cub Scout leader; was an aide at Upper Moreland Middle School; supported Meals on Wheels; and more. She also ironed at St. Mary's Home in Ambler, where she turned down the opportunity for an extra role in "The Trouble with Angels" when it was being filmed there. When her daughter asked her what she most would like to be remembered for, her answer was simple: "kindness."
She is survived by her brother, Dr. Lawrence Chase, of Louisville, KY and five children: Margaret Mary (Benjamin Wyche IV), of Springfield, VA; Mary Elizabeth (Frank Zaccardi), of Medford, NJ; Joseph Henry (Katharine Hillman) of Bryn Mawr, PA; Paul Francis (Joanne Collins), of Langhorne Borough, PA; and Anne Marie (Michael Richards), of Hopewell NJ. She had eight grandchildren and nine great-granddaughters.
The family will receive visitors on Wednesday, March 29 from 9:30 a.m. until 10:30 a.m. at St. John Bosco Church, 215 East County Line Road, in Warminster, PA. A Mass of Christian Burial will be said at 10:30 a.m. Interment will follow the Mass at Resurrection Cemetery in Bensalem. In lieu of flowers, donations are requested to the Ann's Choice Scholarship Fund, Ann's Choice, Philanthropy Department, 20000 Ann's Choice Way, Warminster, PA 18974.