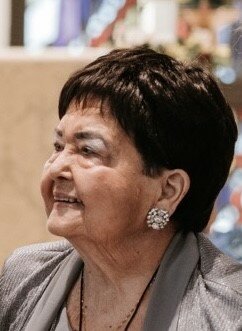 Obituary of Phyllis R. Noga
Phyllis Rose Noga of Doylestown died peacefully on Thursday May 18, 2023 after a brief illness. She was surrounded by her family throughout. She was 92 years old.
The family was blessed to have all been together last Saturday at one of her grandson's wedding. Phyllis looked beautiful and enjoyed being surrounded by all of her children and grandchildren.
Phyllis was the devoted wife of Edward for 63 years. She is survived by eight children, Michele and Jim Dulin, Eddie (deceased) and Babette Noga, Patti Kelly and Ron Fritz, Tom and Mari-Jo Noga, Joanne and Ron DeLucrezia, Jim Noga and Nancy Myers, Terry and Dave Trainer, Rick and Ana Noga, and Michael Noga. She is also survived by seventeen grandchildren and sixteen great-grandchildren.
Phyllis was a devout catholic and her faith was very important to her. She was an avid Philadelphia sports fan. She and her high school sorority sisters met regularly for more than 75 years. Phyllis also looked forward to playing cards each month with her Warminster girlfriends. The card club has been together for more than 50 years.
Phyllis' children and their families are all very close. This was a source of pride and great enjoyment for her. She will be missed by all of them.
Services will be held at St Robert Bellarmine Church, Warrington
Viewing Tuesday, May 23 from 5:30 to 7:30 PM
Viewing Wednesday, May 24 from 9:30 to 10:30 AM
Funeral Mass immediately following. Interment Holy Sepulchre Cemetery, Cheltenham.
In lieu of flowers, please send donations in memory of Phyllis, to the Wounded Warrior Project