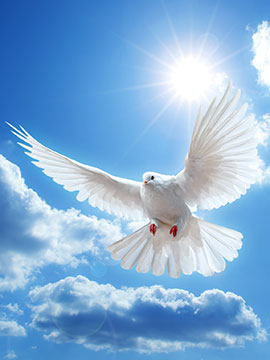 Obituary of Reverend James A. Grant
Rev. James A. Grant of Villa St. Joseph, passed away on August 22,2023 at 84 years young. He was the youngest child of the late William F. Grant and Eleanor Griffin Grant. He was predeceased by his sister Margaret "Peg" Malone and brother William J. Grant. He was a devoted uncle to nine nieces and nephews (Margaret A. Malone, James Robert Malone, Jr., Mary Pat Boron, Kathryn Grant Madigan, Suzanne Grant Lewis, Regina M. Sands, Elizabeth M. Peck, William G. Grant, Matthew Grant) and 14 grand nieces and nephews and seven great-grand nieces and nephews.
At the time of his passing, Fr. Grant served as Senior Priest at St. Francis of Assisi, Springfield, PA for over 10 years, continuing to say Mass on weekends, and as Pastor Emeritus at St. Joseph's, Warrington, PA. He also served as Pastor or Assistant Pastor at many other parishes in the Philadelphia area, as his former parishioners fondly recall.
Fr. Grant attended St. Joseph's Prep and earned a B.A. in 1962 from St. Charles Borromeo Seminary. He was ordained in 1966 by John Joseph Krol, Archbishop of Philadelphia. He later obtained a Baccalaureate in Canon Law (1974) as well as Licentiate in Canon Law (J.C.L.) from the Catholic University of America (1975).
Fr. Grant returned to St. Charles Borromeo Seminary as a faculty member and the Dean and was later appointed Assistant Judicial Vicar in the office of the Metropolitan Tribunal. He served as Chaplain at Philadelphia State Hospital, Chaplain for Bishop Conwell High School and as Regional Director of the Cardinal's Commission on Human Relations.
Fr. Grant made many lifetime friends in the priesthood, travelled throughout the US and abroad, collected art from his many sojourns to Rome, Italy and sailing trips along his favorite east coast beaches (especially Sea Isle City, Avalon, and Stone Harbor, NJ). How he loved to sail! He named his boat "Diesnon," Latin for a day when there is no business transacted.
He was very close to many of his nieces and nephews, regaling them with tales of his hijinks at high school, college and especially at Camp Brebeuf, VT where he was a camper, counsellor, and eventually Director, with the mischief continuing. He was a fixture at the Malone and Grant families' celebrations over the years, most recently in May 2023 with the Grants in Pine Bush, NY where he entertained everyone with his sharp wit, jokes, and stories.
Fr. Grant spent the last eight years of his life living independently at Villa St. Joseph where he developed strong bonds with the caring staff, including them on trips to Sea Isle City. His friendships with his fellow priests grew deep over the years, especially his dear friends Rev. John Silcox, who recently predeceased him, and Msgr. Richard Malone. By all accounts, Fr. Grant was beloved by the staff and residents of Villa St. Joseph, his current and former parishioners, and his extended family. His generosity and sense of humor will be remembered and missed.
Relatives, friends, and Clergy are invited to the Reception of The Body Tuesday 9:30 A.M. followed by viewing 10:00 to 10:45 A.M. at St. Francis of Assisi Church 136 Saxer Av. Springfield. Funeral Mass 11:00 A.M. Interment Calvary Cemetery, W. Conshohohocken. In lieu of flowers donations to Villa St. Joseph 1436 Lansdowne Ave. Darby, PA 19023.