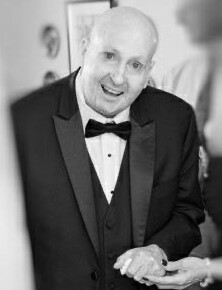 Obituary of Mark Francis Mercer
Mark Francis Mercer passed away peacefully surrounded by family on October 18, 2023. In the last 19 years, Mark beat lung cancer, survived a stroke, and encountered a plethora of medical issues that he repeatedly overcame. He fought until the very end.
Mark is survived by his wife of 38 years, Kathleen, children Jennifer (Andy) and Ryan (Shae) as well as his 3 beautiful grandchildren: Max, Daisy and Owen. Also, his four brothers and numerous nieces and nephews. Mark is preceded in death by his parents Robert and Anne Mercer.
Mark was always listening to music and loved to watch concerts of his favorite rock and roll bands. He could often be found teaching himself or his kids songs on the guitar or keyboard. He loved to work with his hands and was constantly creating projects to teach his children many life skills.
Relatives and friends may greet the family 9:00 a.m. Wednesday October 25th at St. Robert Bellarmine Church 856 Euclid Av. Warrington. A Memorial Mass will follow at 10:30 a.m. Interment is private.
In lieu of flowers, donations can be made in Mark's name to Suncrest Hospice.